Star Trek Running Costume Idea: TOS Starfleet Command Officer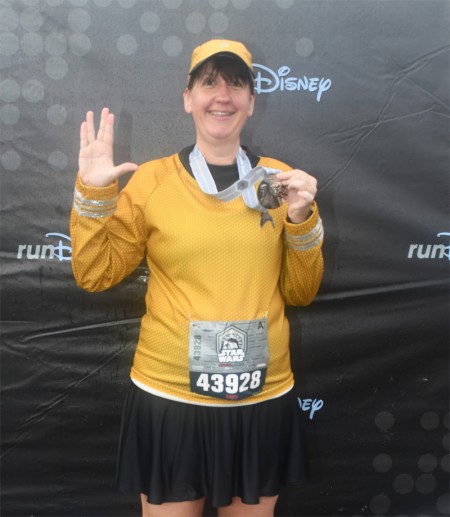 Sometimes runners like to dress up for races! I've been running Disney races for a while, and it's always so much fun to dress up for those events.
It doesn't have to been a theme park event to dress up, though. Some races are famous for their costumed runners, like Bay to Breakers. Local races with fun themes were pretty much made for costume runners. And of course it's a lot of fun to dress up for holiday races, especially Halloween!
For the old Star Wars themed race weekends at Walt Disney World, I would typically run all three events. For the 5K I liked to be a little bit cheeky and dress up as a non-Star Wars character. Star Trek always felt like a great option and it was especially memorable when interacting with characters and members of the 501st on the course -- lots of those 501sties are Trekkies, too!
During the Rival Run 5K in 2019, I dressed up as a TOS-era command officer. (You can read my race report here: 2019 Star Wars Rival Run 5K). Here's what you'll need to recreate this comfortable and easy yet unmistakable running costume outfit look.
I wore this officially licensed long sleeve Star Trek costume shirt for the race. The command officer shirt is made of polyester, but it's not very lightweight or moisture-wicking. It was great for a 5K, especially this one, since it was a cool and rainy morning. I might wear this for a slow 10K too, but for a longer distance, or for actual racing, it might spell disaster in the form of chafing or over-heating.
For my race, I wore a black SparkleSkirt that I had in my closet already. Any black bottoms would work well with this costume, like this affordable black running skirt with shorts attached.
If you end up liking this particular skirt, it comes in different colors and cuts so you could get more to have on hand for future costume runs.
This awesome Star Trek running hat is made of moisture-wicking tech material and comes in all three familiar Star Trek uniform colors (blue and red in addition to yellow). I got the yellow one and it's a great match for the shirt. I like to run in a hat anyway so this was a great find.